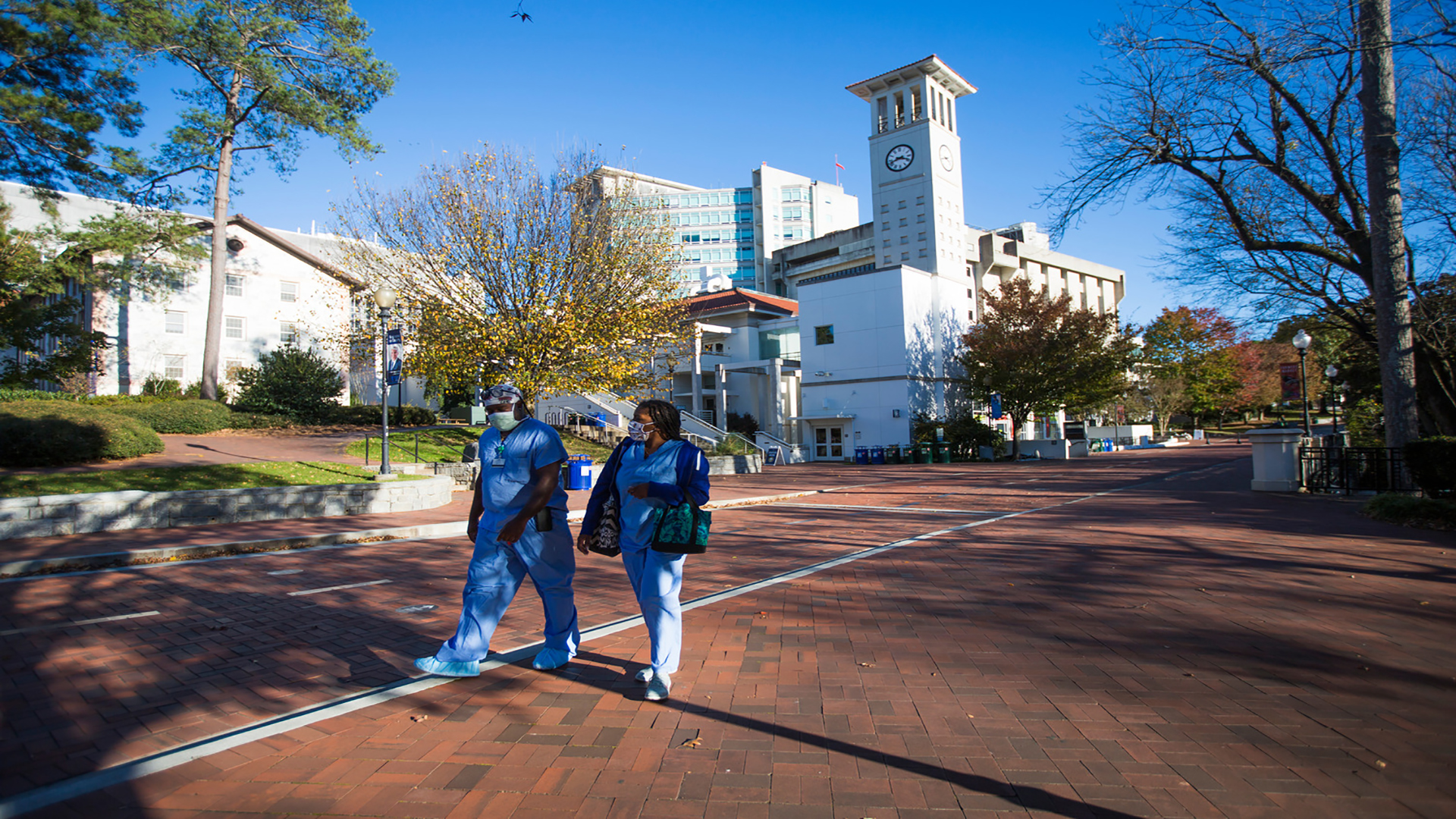 FAQs
---
Why?
Many graduates have found that an MA in Bioethics broadens their expertise and helps create unique opportunities in their profession, whether in clinical care or research, law or business, NGOs or the academy. For example, one of our alumni used the methods she learned during her MA in Bioethics to pursue research for the Georgia Department of Public Health and the Centers for Disease Control and Prevention. In addition, many students use this degree as a bridge between undergraduate study and professional education (MD, JD, PhD, etc.). We currently have MA in Bioethics students and alumni pursuing MD, JD and PhD degrees around the country. This includes a number of students pursuing one of our innovative dual-degree programs with one of: Medicine, Nursing, Physical Therapy, Public Health, Law, Theology or Divinity. Such dual degrees are useful for a variety of positions including health lawyers, palliative care nurses, clinical ethicists, public health officials, and chaplains. For more information on our alumni, please see our alumni website.
While there are numerous graduate programs in Bioethics, Emory University's program has three distinctive strengths:
Access to a distinguished and interdisciplinary network of scholars, experts and policymakers both on and off campus
If you join our program, you will learn from a dynamic network of experts, scholars and policymakers through one-on-one advising, small group classes and our innovative practicum service learning course. This network extends from Emory University's Center for Ethics core faculty and your fellow students through to our affiliated faculty and practicum partners. Our interdisciplinary core faculty serve as primary advisors to our MA in Bioethics students and teach the majority of the program's core, required classes. In addition, the selective nature of our program ensures your fellow MA in Bioethics students also bring a wealth of experience and perspectives that is rare in any program. For example, in a representative small seminar class this year, we have an English Professor who specializes in Disability Studies, an Emergency Medical Technician, a post-baccalaureate MD applicant and a pediatric oncologist. Our affiliated faculty teach certain elective courses available to MA in Bioethics students and are also available to serve on thesis committees. These affiliated faculty members are drawn from a diverse range of fields including (but not limited to) Medicine, Public Health, Epidemiology, Journalism, Nursing, Sociology, Psychology, Theology, Biology, Business and Philosophy. This allows us to provide a truly interdisciplinary learning experience that is responsive to the concerns and methods of different disciplines. Finally, our practicum partners, such as the Centers for Disease Control and Prevention, Georgia State Legislature and NASA, offer our students opportunities to implement ethical initiatives and develop their professional connections beyond Emory's campus.
An impressive faculty/student ratio that allows for small group teaching
We have a strong faculty/student ratio which enables truly small class sizes; timely and helpful feedback; and highly personalized attention. Some Bioethics programs consider classes of 20 to be small – our average class size is less than half that number!
A diverse range of programming and events organized by Emory University's Center for Ethics.
Emory University's Center for Ethics is extremely active with a diverse range of programs and events including workshops, conferences and speakers from around the world. Previous speakers have included internationally renowned bioethicists such as Arthur Caplan and Margaret Somerville as well as those practicing and promoting ethics more generally such as His Holiness the XIV Dalai Lama Tenzin Gyatso.
Curriculum
The Master of Arts in Bioethics requires a total of 30 credits including 18 credits of required bioethics courses and 12 credits of elective courses.
A full-time student can complete the MA Program during a 12-month period. Part-time students who choose to take one course at a time may complete the degree in as few as three years, depending on the student's coursework and availability.
All course in the MA in Bioethics are currently in-class courses. On-line courses may be developed in future semesters.
After Acceptance
Applications will be reviewed on a rolling basis. Students who submit applications by January 1 will hear by January 31. 
You will be notified of your acceptance by the Laney Graduate School. You will need to indicate your intent to enroll by signing a form. In addition, you will be required to pay a deposit to hold your spot by May 1.
The Center for Ethics and the MA-Bioethics program offers a variety of financial aid resources. We have research assistantships and a limited number of scholarships available. For students who are also current Emory employees, courtesy scholarships may be available to you and employees of the Centers for Disease Control are eligible for discounted tuition through the Department of Health and Human Services University Partnership Program.
Many bioethics students take advantage of the variety of loans available through Emory's Financial Aid Office. Students can borrow up to the budgeted cost of attendance less any scholarships, and loans are available for both domestic and international students. Formore information about student loans and how to apply, please visit Emory's Office of Financial Aid website or contact 404-727-6039.
Federal financial aid is also available in the form of low interest and interest-deferred loans. To receive the most favorable student loan, the Emory Office of Financial Aid recommends that you file the Free Application for Federal Student Aid (FAFSA) as early as possible.
A number of scholarships are also available to graduate students from private organizations, industry associations, school and fraternal alumni associations, and foundations. Useful online scholarship search resources include FinAid, FastWeb, Scholarships.com, and Peterson's.