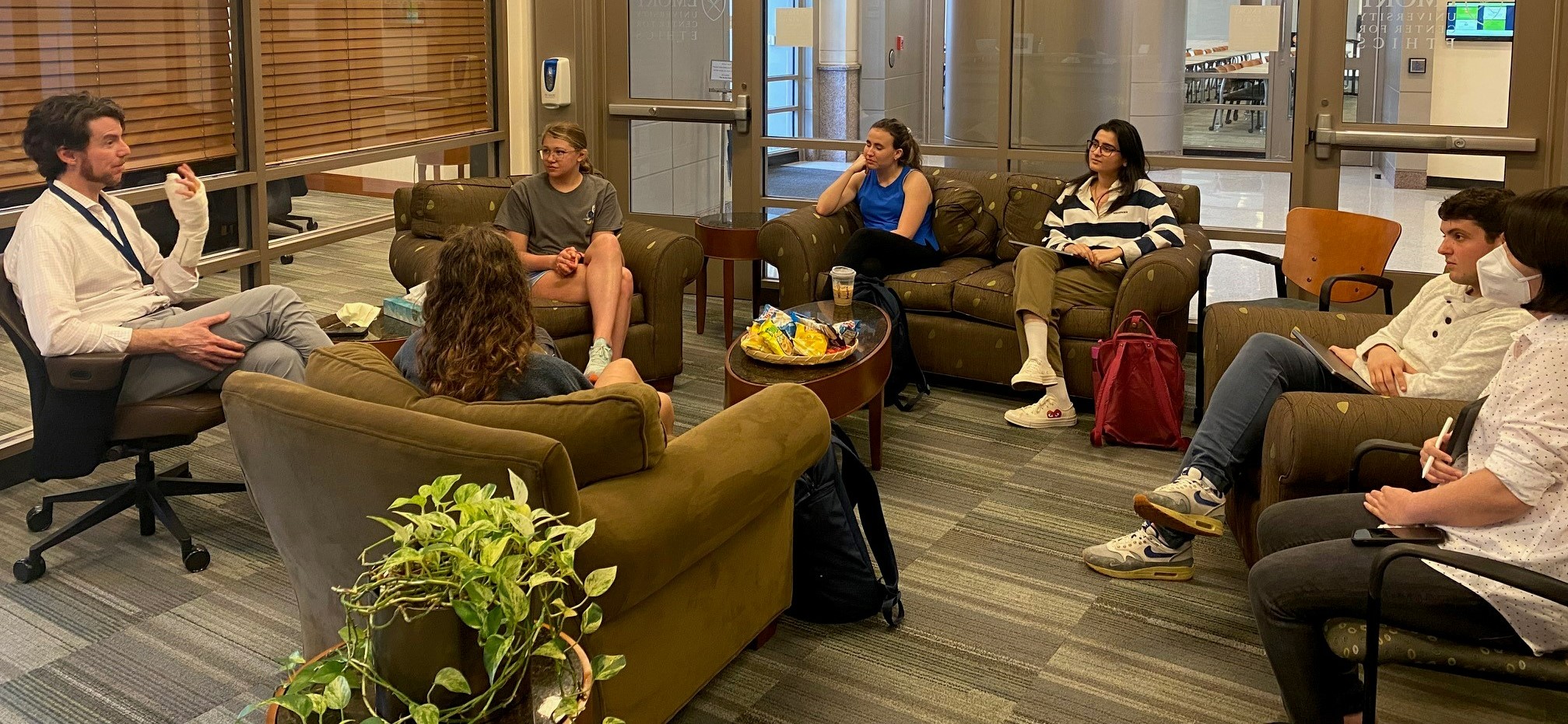 Ethics Matters: Conversations That Can Change The World
---
The Center is a welcoming destination for Emory students, regardless of their major, minor, or academic program. While we offer two open discussion forums, with no registration necessary, we are also there when a student is grappling with a particularly tough question on their own. What are my ethical guidelines? Who do I want to be in the world? How do I know when it's the right thing to do? Our doors are open and students are welcome and encouraged to drop in and chat. 
DISCUSSION FORUMS
Ethics at the Center
Life is complicated. Students have questions. This time is set aside for our students to chat with an ethicist about a question of the week or a dilemma they've been pondering on their own. Free and open to all students.

By bringing our Senior Faculty Fellows from across Emory, these are just a few of the topics we covered last semester: Do humans just make their ethical or moral systems up? Sustainable futures in the Anthropocene: What will it look like? I can quit whenever I want - is free will an illusion? Multiculturalism - what is the right way to respect cultural differences?
All sessions run from 12:30-1:30 pm on Wednesdays at the Emory Center for Ethics, 1531 Dickey Drive, First Floor. Snacks provided. See schedule for more detailed information.
Tough Topics, Free Food, and Civil Conversation
In this series, students and faculty will discuss articles and op-eds from newspapers and magazines about culture and current events. Discussions will focus on assessing the author's argument(s) and how those arguments impact the choices we make in our lives. While informed by academic study, conversations will be informal yet intellectual. The goal of this series is develop the skills necessary to advance civil society and discourse in a meaningful way. And yes, there will be free food. 
For September 28th, 2023 discussion at 12:30 pm, you can find the month's article here.
Are you ready to join the conversation?