Online Certification Course in Ethical AI
---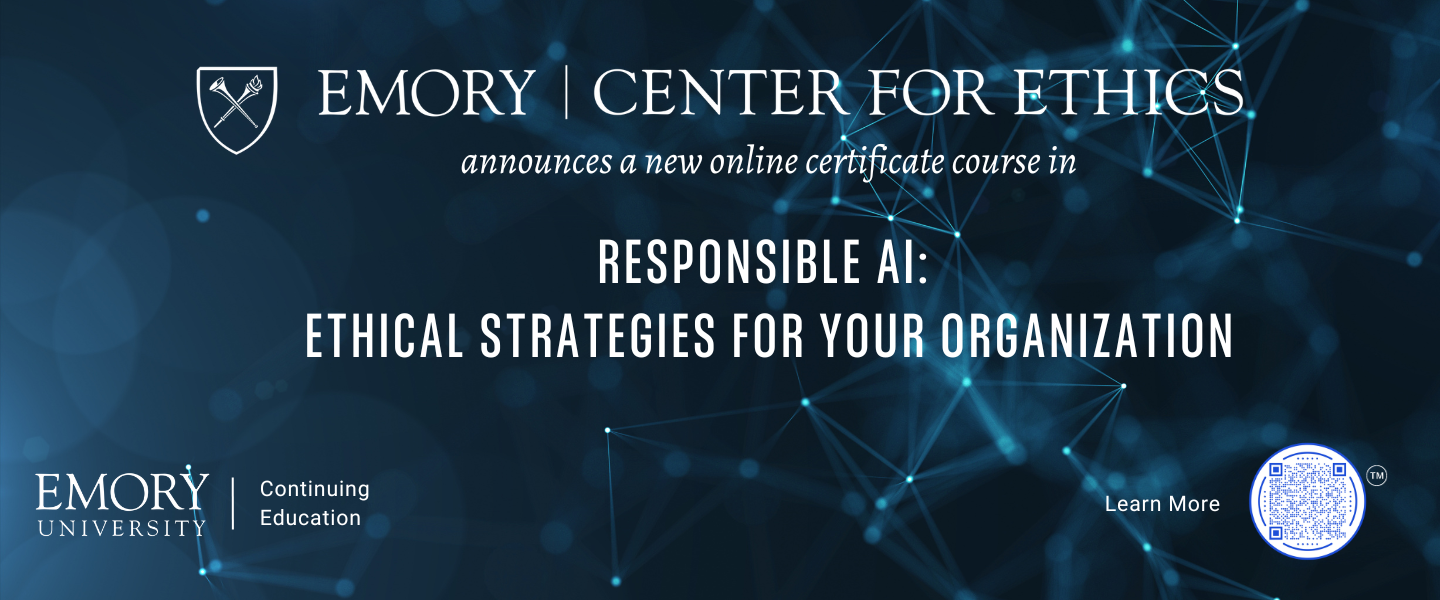 Why Take A Course on AI Ethics?
No recent topic in technology or in ethics has captured the imagination spread as quickly as the ethics of artificial intelligence (AI). And while the remarkable advances of AI hold unprecedented promise, the development of AI also is fraught with challenges. AI systems can be biased, misguided, expose personal data, lack transparency, lead us astray, and raise questions about the very nature of humankind. Integrating AI into organizations can raise questions of job displacement, retraining, human deskilling, and the proper balance of human and artificial decision-making.
How should modern organizations navigate these unprecedented challenges? What strategies should we use to identify the risks, understand the scope, avoid the harms, and define responsibilities when designing and using AI systems? To help answer these difficult questions, the Emory University Center for Ethics is offering an online certification course on "RESPONSIBLE AI: ETHICAL STRATEGIES FOR YOUR ORGANIZATION."
This six-week program is intended for executives, boards, and general management who face tough decisions about implementing AI programs in their organizations. Delivered through videos featuring international experts, reading lists, and transcripts, learners will be invited to work on an AI system of their choice and to apply lessons to their chosen systems. The course is designed for six to eight hours of personal study time per week, is mainly asynchronous (i.e., online), and successful students will earn a certificate of completion from Emory University.
At the end of the course, you will be able to assess the ethical risks and define strategies for the model AI system you select and work on during the training session. Specifically, you will have developed practical skills to:
identify the types of ethical risks in AI systems,
sketch an outline of a privacy impact assessment
recognize the various types of bias and write a bias mitigation plan
name the different components of trustworthy AI
create an outline of a cybersecurity incident response
And finally, be able to deliver a practical blueprint of an ethical impact assessment of your selected AI system.
Click here for a short video introduction about why this certificate program is for you.
For more details and to register, click here.
To reach the course director, call email Anne-Elisabeth Courrier .