Exhibits
---
Spring 2020—Bullets and Nooses 
COVID-19 and Our Exhibits
Our spring semester exhibit was cut short because of COVID-19. We look forward to having our next exhibit in the fall. Please check back for more information. 
About the Artist
Derrick Phillips Sr. is a mixed-media artist who lives and works in Lawrenceville, Georgia. A native of East Point, Georgia, his art pays homage to the African American diaspora by taking on the social and political issues intertwined with the inherent resilience of the black race. He primarily works in wood assemblages combined with a mixture of charcoal and acrylics.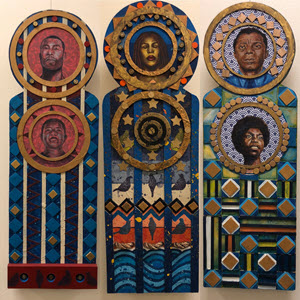 Bullets and Nooses
Bullets and Nooses addresses the parallels between gun violence/police shootings and lynching. The two acts of brutality are essentially the same, just taking place in different periods within American history. The noose, worn like a necklace, is a significant symbol in this series. The noose pays homage to the lynching of Phillips's ancestors and those who witnessed such acts of brutality. The symbolism is parallel to the cross on a necklace that a Christian would wear to remember Jesus Christ's crucifixion. The noose combined with the halo creates a symbol of infinity representing the idea of the people within living forever.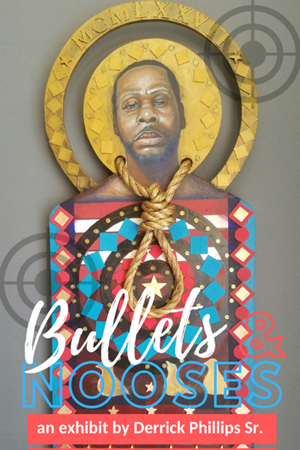 Center for Ethics Art Gallery
The walls of the Ethics Center serve as gallery space to display socially conscious art. Artists are selected for art that engages social issues in provocative ways. The works tell stories of human struggle and triumph. The gallery also allows visitors to engage with the artist through artist talks. Join us in interacting with these works of art to better grasp the meaning that informs their creation.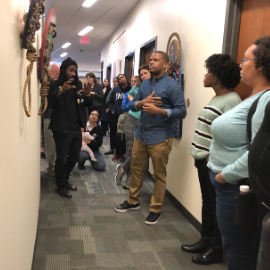 Past Exhibits
We are grateful to have hosted a wide range of artists and exhibits during the past 10 years. Take a look at all that we have offered to stimulate the heart and mind in this decade.