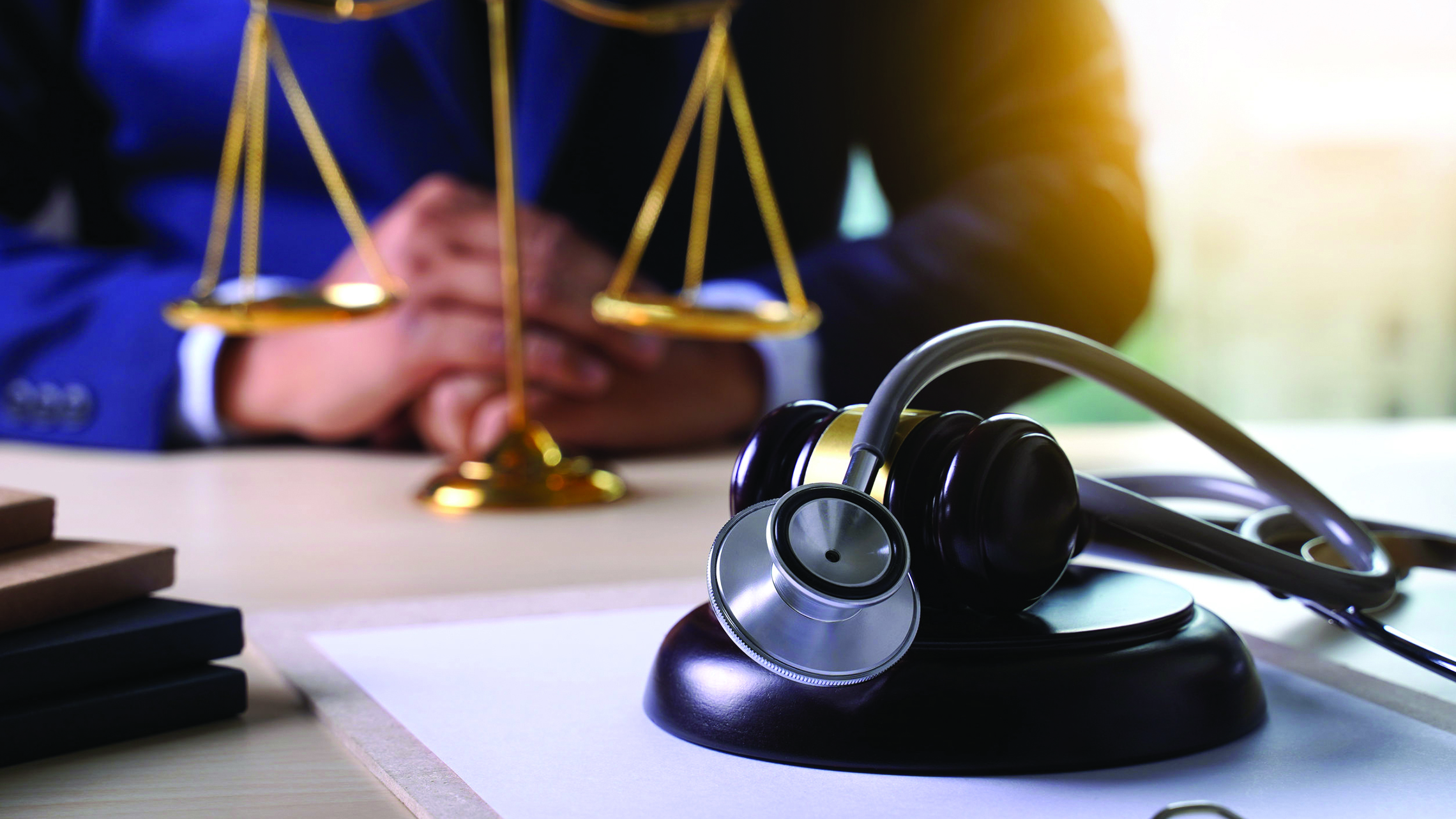 MA in Bioethics/JD
---
Why get a MA-Bioethics/JD?
The purpose of this program is to train students to speak intelligently at the intersection of law and bioethics and to participate in the development of health-related public policy and legislation. Students preparing for careers in health care will become experts in the legal obligations of the health care industry and will be able to advocate for courses of action that would be most ethically justified but may traverse the boundaries of state or federal law. In addition, students preparing for careers in health law will have a framework for incorporating and analyzing the ethical dimensions of a legal challenge, a policy change, or proposed legislation.
MA-Bioethics/JD Curriculum
Students will apply to each program for admission separately, and, if accepted to both programs, will be expected to fulfill the requirements of the programs. While students will complete the standard 30 credit hours for the MA-Bioethics degree, students will complete a reduced course load of 79 hours at Emory Law, as is standard for dual degree programs there.
Opportunities for collaboration extend beyond course offerings. We have arranged several bioethics practicum experiences that have substantive law components and students who choose to complete a field placement for the Law School might be interested in returning to that site for their bioethics practicum to consider fully the ways that the law and bioethics intersect in that practice.
Most students enrolled in the dual degree program will likely choose the exam track for the MA-Bioethics final project, and students will be advised that this track will enable them to graduate in a timely fashion. Those who are interested in writing a thesis will need prior approval from both their Emory Law advisor and their Bioethics advisor.
Both the Emory Law curriculum and the MA-Bioethics curriculum provide students education in the discipline-specific methodologies of critical analysis. Yet there are many opportunities for interdisciplinary studies. Students often take a Bioethics and Law elective course offered through the Center for Ethics, which is taught by an instructor with both a law degree and a master's degree in bioethics. In addition, discussions about healthcare reform and the impact of legal cases on policy and public sentiment are discussed from an ethics perspective in the Bioethics program, and from a legal perspective at Emory Law.
Required Courses of the MA-Bioethics/JD Dual Degree:
MA-Bioethics
BIOETH 501: Foundations of Bioethics I
BIOETH 502: Foundations of Bioethics II (3 hrs)
BIOETH 503: Foundaitons of Bioethics III (3 hrs)
BIOETH 504: Seminar in Bioethics (2 hrs)
BIOETH 601: Bioethics Service Learning Practicum (4 hrs)
BIOETH 599: Bioethics Thesis* (3 hrs)
12 hrs of electives (Preferably including BIOETH 505: Law and Bioethics)
Total = 30 hours
Upper Level Writing Requirement may be fulfilled by completing a seminar class, participating on a journal, or writing a directed research paper
LAW 505: Civil Procedure (4 hrs)
LAW 510: Legislation and Regulation (2 hrs)
LAW 520: Contracts (4 hrs)
LAW 550: Torts (4 hrs)
LAW 535A: Research, Writing, and Appellate Advocacy I (2 hrs)
LAW 525: Criminal Law (3 hrs)
LAW 545: Property (4 hrs)
LAW 530: Constitutional Law (4 hrs)
LAW 535B: Research, Writing, and Appellate Advocacy II (2 hrs)
LAW 632: Evidence (3 hrs)
LAW 747: Legal Profession (3 hrs)
LAW 671: Trial Techniques (2 hrs)
LAW 736: Health Law (3 hrs)
39 hrs of electives
Total = 79 hours
*Students on the exam track will take an additional Bioethics elective.
Other Relevant Law School Electives Include:
This list is not exclusive. Students may choose from the full law course catalog.
2 hrs LAW 736B (Global Public Health Law) or 736A (Public Health Law)
3 hrs LAW 627 (Islamic Law) or Law 664 (Jewish Law)
3 hrs LAW 686 (Law and Morality) or LAW 686A (Law, Morality, and Human Rights)
3 hrs LAW 835 (Genetics and the Law)
3 hrs LAW 837 (Animal Law)
3 hrs LAW 626 (Disability Law)
3 hrs LAW 701 (Administrative Law)
3 hrs LAW 663 (Products Liability)
3 hrs LAW 670 (Jurisprudence)
3 or 4 hrs LAW 500 (Business Associations)
*Students on the exam track will take an additional Bioethics elective.
Table 1 provides an example of a typical student's progress through the proposed curriculum
Table 1

Enrollment
Stipend Allocation
JD classes
BIOETH classes
Credit hours/semester

Fall 1

Law School

None

LAW 505 (4)
LAW 510 (2)
LAW 520 (4)
LAW 550 (4)
LAW 535A (2)

16

Spring 1

Law School

None

LAW 525 (3)
LAW 545 (4)
LAW 530 (4)
LAW 535B (2)
Elective or LAW 736 (3)

16

Fall 2

Laney

None

BIOETH 501 (3)
BIOETH 502 (3)
BIOETH 504 (1)
Elective (3)

16

Spring 2

Laney

None

Elective (3)
Elective or Law 736 (2)

BIOETH 503 (3)
BIOETH 504 (1)
BIOETH 601 (4)
Elective (3)

16

Fall 3

Law School

None

LAW 632 (4)
LAW 747 (3)
Elective (3)
Elective (3)

16

Spring 3

Law School

None

LAW 671 (2)
Elective (3)
Elective (3)
Elective (3)
Elective (3)

17

Fall 4

Law School

None

Elective (3)
Elective (3)
Elective (3)

12
Note that Table 1 shows that students can complete the dual degree curriculum in 3.5 years. However, the credit hour requirement per semester is quite heavy. Table 1 reflects the notion that students will likely want to leave their summers free to pursue other opportunities, and therefore no classes have been scheduled for summer semesters. However, students are welcome to take courses during that time, especially electives and the Bioethics Practicum (BIOETH 601). At the current time, the Law School does not offer summer courses. Additionally, experience with the JD/MPH students suggests that artificially compressing the degrees, as described above, may not be aligned with students' preferences; the JD/MPH students typically desire more time, not less. In that instance, the degree programs can certainly extend to the spring of Year 4, making this a 4-year plan to obtain the JD and the MA-Bioethics.
Regardless, what is evident from the table above is that tuition would accrue to the Laney Graduate School for 2 semesters and to Emory Law for a minimum of 5 semesters. If students opt for an additional semester, that tuition would accrue to Emory Law unless the student enrolls in summer courses. Since Emory Law does not currently offer summer courses, student tuition for the summer would accrue to Laney Graduate School.
Students will apply to each program for admission separately.
Learn more about the MA-Bioethics dual degrees
Applying for the JD/MA-Bioethics Dual Degree
Students who apply BEFORE entering Emory:
When submitting your application to Emory School of Law, please indicate your interest in the MA-Bioethics Program when you select your degree program. This will enable the SOL Admissions Office to share your information with us.
We will also need three additional elements:
a personal statement about your interest in the Bioethics Program;
a sample analytical essay, where you offer a brief analysis of a bioethics case; and
an additional letter of recommendation that speaks to your critical thinking, written, and verbal communication skills.
You will receive an email with detailed instructions about each of these elements once we receive your information from the School of Law.
Your application to the MA-Bioethics Program is considered complete when we receive these additional elements to complement the materials you provided to the School of Law.
*Please note: You will not need to complete the application to the Laney Graduate School or to take the Graduate Record Examination (GRE).
Students who apply AFTER entering Emory:
Students may apply for the MA-Bioethics Program during year 1 or 2 of their legal training; however, we recommend that students complete an applicationduring their 1L year in order to step out of the law curriculum after year 1 to complete the MA-Bioethics requirements. Students must complete the standard application to the Laney Graduate School for the MA-Bioethics Program, with the following exceptions:
GRE scores are NOT required.
Applicants must authorize the School of Law to share their law school application with the Bioethics Program.
Students must only submit one letter of recommendation (since the other letters will come from the law school application). This letter should address the skills you have that will make you successful in a program that is humanities focused, specifically in a program that emphasizes clear verbal and written communication, that requires independent critical analysis skills, and that requires participation in discourse with faculty and other students.
For the other two letters of recommendation required by the Laney Graduate School, please choose the option that says "I will not use the electronic system."
While your transcripts are part of the SOL admissions packet, the admissions system will ask you to upload each of your transcripts individually. Instead of doing this, simply create a word document that says: "I am currently enrolled in Emory School of Law; this will be part of my School of Law application." Please also include your name and student ID number. Then upload this same Word document each time the system asks you for a transcript.
Testimonial
"I've had a great experience with the JD/MA-Bioethics program, both personally and professionally. From a personal perspective, the bioethics program gave me a second cohort alongside my law school friends.This included medical school students, an ICU nurse, and practicing physicians, all of whom brought their unique experiences to the table. Plus, the small class sizes (usually 8-10 students) led to immersive, interesting conversations, and resulted in my bioethics classmates becoming some of my closest friends.
I also really enjoyed the faculty in the Center for Ethics. Coming from a small liberal arts school, I was used to walking into professors offices and chatting about new ideas or projects. The Center's faculty is super accommodating and approachable. For instance, one of the women in my cohort was interested in neuroethics, so she worked alongside Karen Romelfanger and went to a conference with her. Another woman and I went to Anaheim to present our work at a national bioethics conference.When I wanted to write a science fiction novel instead of doing a traditional thesis, the Center faculty worked with me to assure that was possible and that I still met my learning outcomes. Those are just a few examples, but the point is: they'll get to know you and do what they can to support your growth and scholarly development in the field.
Professionally, the dual degree program was a great talking point in interviews and showed my commitment to practicing health law. Employers were impressed that I was getting two degrees in 3.5 years, mentioning that it showed creativity and initiative. The best part was having an extra summer (after my law cohort graduated in 3 years) to work in the legal field before having to accept a job anywhere. For me, this meant staying with my same firm and trying out new offices. However, for others it could mean trying a new firm or government work or cultivating another experience entirely. All in all, I think the two degrees complemented each other well and afforded me valuable professional opportunities. If I were given the choice to do it again, I absolutely would." - Mikayla Paolini, JD/MA Bioethics Alumna.