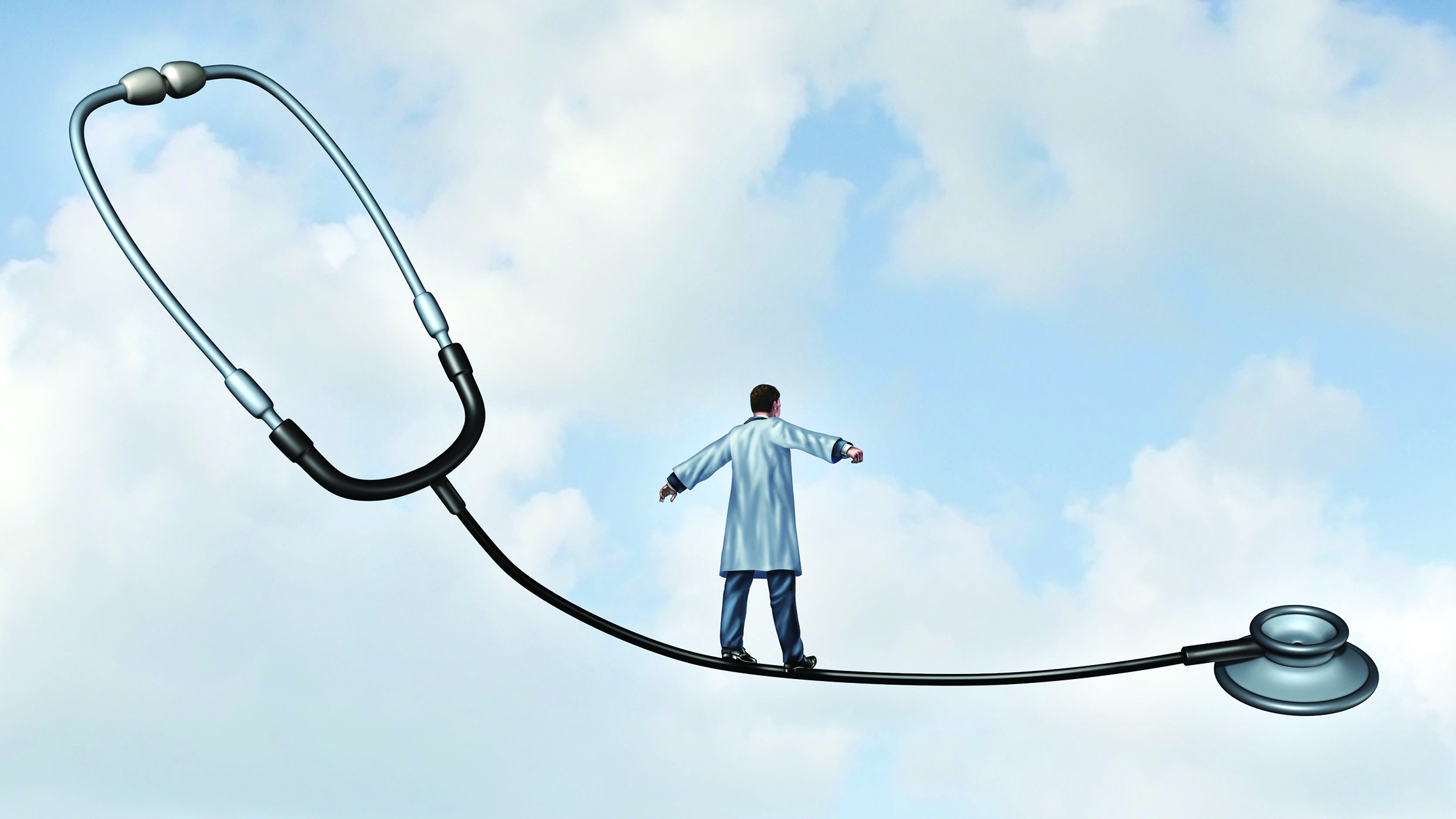 MA in Bioethics/MD
---
Why get an MA-Bioethics/MD?
The purpose of the program is to prepare students from the very onset of their medical careers to be equipped to identify, address, and assess ethical issues as they appear in clinical practice. Students who graduate with a dual MA-Bioethics/MD degree will not only be prepared to enhance the care they provide to patients, but also will be prepared to work on issues of public policy as it relates to the provision of clinical care, to serve on or chair ethics committees, or to conduct education on the ethical foundations of clinical practice.
MA-Bioethics/MD Curriculum
Students will complete the dual degree in 5 years, with 4 years at the School of Medicine and 1 year at the Laney Graduate School. Students would receive the MD and the MA in Bioethics concurrently upon completing the requirements for both degrees.
A sample curriculum for the Bioethics portion follows in Table 1, although there is no difference from the full-time MA-Bioethics students' schedule.
Table 1: Sample Student Schedule for MA-Bioethics (Full Time)

Semester
Class (credits)

Fall

BIOETH 501 (3)
BIOETH 502 (3)
BIOETH 504 (1)
Elective (3)
Elective (3)

Spring

BIOETH 503 (3)
BIOETH 504 (1)
BIOETH 601 (4)
Elective (3)

Summer

Elective (3)
BIOETH 602 (3) (to be continued/finished in the fall)
The Medical School Curriculum has 4 phases: the Foundations Phase (18 months), the Applications Phase (12 months), the Discovery Phase (5-9 months), and the Translation Phase (9 months). For students pursuing the MA-Bioethics/MD Dual Degree Program, the first two phases remain unchanged. Students will count the MA-Bioethics as their Discovery Phase, which is designed to give students an opportunity to engage in in-depth research or to explore issues in the medical humanities, medical anthropology, medical sociology, etc. Students will then "step back in" to their medical school training to complete their final Translation Phase.
Because students in the MA-Bioethics Program must begin with BIOETH 501 which is only offered in the fall, medical students pursuing the dual degree will likely move into some of their clinical rotations for the Translation phase before stepping out in the fall semester following Year 3 to begin the MA-Bioethics. A typical student pursuing these dual degrees might follow the schedule described in Table II below; note that year 4 will become the MA-Bioethics year, and then what is listed in year 4 becomes year 5 for dual degree students.
Note that a final project is required for both the completion of the Discovery Phase and for the MA-Bioethics. Since the MA-Bioethics counts as the students' Discovery Phase , one final project will count for both programs. Students will begin this project in the summer of Year 4; however, some may not complete the work until the Fall of Year 5. In that eventuality, students will simply enroll in BIOETH 602 in the summer of Year 4 and receive an "In Progress" mark until they complete the project, at which point a grade will be assigned. The project must be completed before the end of the fall semester of Year 5 in order to meet all appropriate degree deadlines.
Finally, while the Translation of Medical Sciences Phase is spread out over the entire Year 5, students will spend some of that time away on residency interviews and other preparatory requirements.
Table 2: Sample MA-Bioethics/MD Student Schedule

Year
Sep
Oct
Nov
Dec
Jan
Feb
Mar
Apr
May
Jun
Jul
1
Foundations of Medicine Phase: Healthy Human and Human Disease
Becoming a Doctor Continuity Clinic
2
Foundations of Medicine Phase: Out-Patient Experience
USMLE Step I
Application of Medical Sciences Phase
3
Application of Medical Sciences Phase
Translation of Medical Sciences Phase: Sub-internship, ICU, Emergency Medicine
4
Discovery of Medical Sciences Phase
Master of Arts in Bioethics
5
Translation of Medical Sciences Phase: Sub-Internship, ICU, Emergency Medicine
May Graduation
Financial Implications
Since students will only be enrolled in the Laney Graduate School during Year 4, Year 4 is the only time during which they are responsible for tuition and fees to Laney. Otherwise, all tuition and fees will accrue as they normally would during enrollment at the School of Medicine. The student is free to register for the Bioethics capstone course (BIOETH 602) in the fall while enrolled at the School of Medicine, or the student may register for the course in the summer of Year 4 and register for Directed Readings in Year 5. Regardless, the student will pay tuition to Laney *only* during Year 4 of this 5 year plan.
Students will apply to each program for admission separately.
Learn more about the MA-Bioethics dual degrees
Applying for an MD/MA-Bioethics Dual Degree
Students who apply BEFORE entering Emory
After you have submitted your AMCAS application to Emory School of Medicine and have been verified, you will receive instructions to access the Emory Supplemental Application. When completing the Emory Supplemental Application, please indicate your interest in the MA-Bioethics Program when you select your degree program. This will enable the SOM Admissions Office to share your information with us.
We will also need three additional elements:
a personal statement about your interest in the Bioethics Program;
a sample analytical essay, where you offer a brief analysis of a bioethics case; and
an additional letter of recommendation that speaks to your critical thinking, written, and verbal communication skills.
You will receive an email with detailed instructions about each of these elements once we receive your information from the School of Medicine.
Your application to the MA-Bioethics Program is considered complete when we receive these additional elements to complement the materials you provided to the School of Medicine.
*Please note: You will not need to complete the application to the Laney Graduate School or to take the Graduate Record Examination (GRE).
Students who apply AFTER entering Emory
Students may apply for the MA-Bioethics Program during any year of their medical training; however, we recommend that students complete an applicationno later than the fall of their third yearof medical school.
*An ideal time to apply for the dual degree is the fall of Year 3 of medical school.*
Students must complete the standard application to the Laney Graduate Schoolfor the MA-Bioethics Program, with the following exceptions:
GRE scores are NOT required.
Applicants must authorize the School of Medicine to share their medical school application with the Bioethics Program. Authorization Forms can be found here, please sign and submit to Gerard Vong, Director of the MA in Bioethics Program (gerard.vong@emory.edu) and Sheryl Cottle, Senior School of Medicine Admissions Program Coordinator (sheryl.cottle@emory.edu).
Students must only submit one letter of recommendation (since the other letters will come from the medical school application). This letter should address the skills you have that will make you successful in a program that is humanities focused, specifically in a program that emphasizes clear verbal and written communication, that requires independent critical analysis skills, and that requires participation in discourse with faculty and other students.
While your transcripts are part of the SOM admissions packet, the admissions system will ask you to upload each of your transcripts individually. Instead of doing this, simply create a word document that says: "I am currently enrolled in Emory School of Medicine; this will be part of my School of Medicine application." Please also include your name and student ID number. Then upload this same Word document each time the system asks you for a transcript.