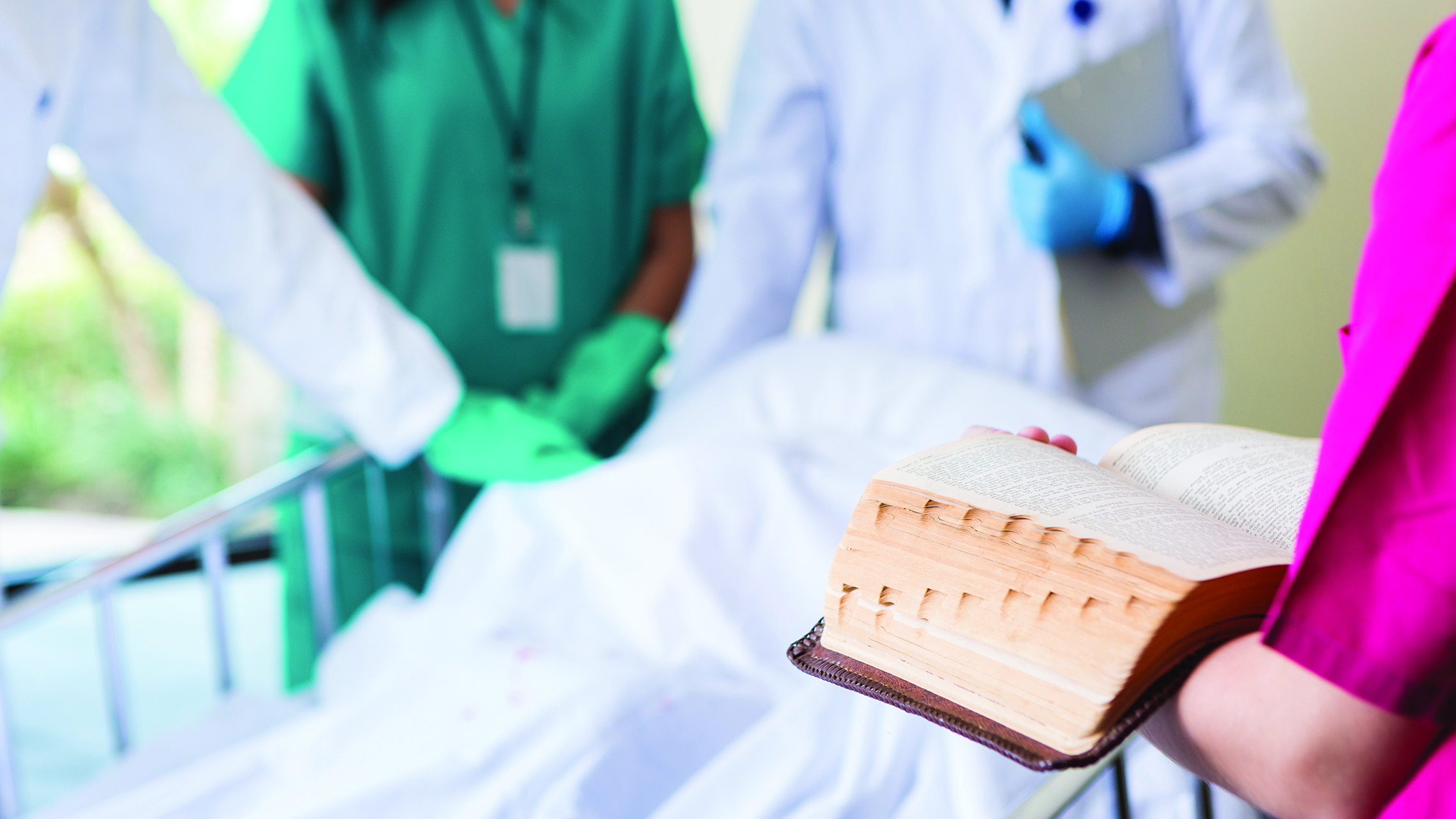 MA in Bioethics/MTS
---
The dual degree program that combines a Masters in Bioethics with a Masters in Theological Studies has allowed me to approach both fields from a unique perspective. I started my studies in the MTS program, but I found myself studying and writing on topics such as death and end-of-life decisions in my theology classes, curious about the ways that spiritual beliefs influenced medical decisions, and taking interdisciplinary classes on healthcare systems and in public health to fill my electives. I discovered that enrolling in the MAB/MTS dual degree would allow me to draw together my interests in a much more cohesive way, and simultaneously explore two fields by integrating my interests in my classes, practicum, and thesis. In this way, the program is tailored to my specific interests and has allowed me to study with scholars in both Theology and Bioethics, ensuring that I am well trained in both areas.
Why get an MA-Bioethics/MTS?
The purpose of the program is to train a small number of elite students to pursue careers in faith-based organizations, to teach at secondary schools, or to pursue advanced studies in bioethics and moral theology. Students who will be attracted to this program will have undergraduate backgrounds in theology, religious studies, or a related area. In addition, the dual degree will serve the needs of individuals whose career goals involve working in bioethics, patient advocacy, or pastoral care at a faith-based health care institution or organization who desire to have a robust understanding of the intersection of religion and health or health care.
MA-Bioethics/MTS Curriculum
Students will apply to each program for admission separately, and if accepted to both programs will fulfill the requirements of the programs in parallel. However, faculty members in the MA-Bioethics Program and the MTS program are both committed strongly to the notion that a dual degree program should not simply be an "additive" curriculum, where interested students take courses in each discipline as though the degrees were simply pursued consecutively, or a "substituted" curriculum, where courses in one program count for requirements in another so that students can complete both degrees in a reduced time frame. (Although students will be able to complete both degrees in 4 semesters, rather than the 7 it would take otherwise.)
Rather, a dual degree program should be value enhancing from the perspectives of stakeholders of both programs. For this particular dual degree, we contend that understanding the theological foundations of many moral commitments and reflecting critically on the way faith traditions construct the value-rich concepts of life, death, and agency will serve as this value-added basis for the dual degree program.  In addition to the content-enriching features, students will also have the opportunity to compare and contrast skills involved in bioethical analysis with those specific to theological texts and issues. Through a joint commitment to the process of critical reflection, faculty will instruct students on both the discourse-specific methodologies and the points of commonality among the two fields of scholarship. We have designed the proposed curriculum to reflect this commitment; in addition to other requirements, students must take a research design and methods course that is specific to their area of inquiry.
While individual course plans may vary, below are general curricular requirements:
MA-Bioethics
3 hrs BIOETH 501
3 hrs BIOETH 502
3 hrs BIOETH 503
1 hr BIOETH 504 (taken twice)
3 hrs BIOETH 599R 
3 hrs electives
Total = 17 hours
MTS Requirements
0 hrs MTS 505
3 hrs World Religions Course
3 hrs Research Methods Seminar (MTS 520T/MTS 520M)
3 hrs ES 651 or equivalent
3 hrs MTS 600T or MTS 600M (the integrative paper component of this course is waived because student will complete thesis (BIOETH 599R))
6 hrs electives
Total = 18 hours
Shared Hours
3 hrs ES 501 (MRTE Core)
3 hrs NT 629 or equivalent
4 hrs BIOETH 601 (practicum) satisfies the MTS Professional Elective requirement
3 hrs Interdisciplinary Seminar (BIOETH 507 or equivalent)
Total = 13 hours 
The following table provides an example of a typical student's progress through the proposed curriculum:

Enrollment
Sipend Allocation
MTS Classes
BIOETH classes
Fall 1
Laney
None

BIOETH 501 (3)
BIOETH 502 (3)
BIOETH 504 (1)

Spring 1
Laney
None

BIOETH 503 (3)
BIOETH 504 (1)
BIOETH 601 (4)
Elective (3)

Fall 2
Candler
Scholarship awards vary

ES 651 or equivalent (3)
Elective (3) NT 629 or equivalent (3)

Spring 2
Candler
Scholarship awards vary

World Religions (3)
MTS 600T or MTS 600M (3)
Elective (3)

Interdisciplinary Study (3)
Applying for the MTS/MA-Bioethics Dual Degree
Candidates for the dual degree program must apply to each school separately. Evaluation criteria for admission to the Candler School of Theology for students in the dual-degree program are the same as those for the MTS program alone; similarly, evaluation criteria for admission to Laney Graduate School for students in the dual degree program are the same as those for the MA-Bioethics Program alone.
Students accepted into the dual degree program will be notified of acceptance by both schools. If students are accepted into one school but not the other, they may enroll in the school that has accepted them, but not as a dual degree student.
Upon admission to the dual degree program, students should consult with the appropriate program director of each school to plan their courses of study.